The students are leading the way here at Indian Creek. Check this out!
About two months ago, I was approached by three of our students, Jessika, Jennifer, and Caleb.  Their agenda: they wanted to put on a production as a fund raiser for YouthFront's "Feed the Hunger" organization.  Our student ministry has been building a relationship with Feed the Hunger since the beginning of this summer, starting with camps, then Middle School Mission Camp, and most recently with our Fall Retreat this past October.  In brief, Feed the Hunger is all about giving students an opportunity to package and pray for meals that are sent to malnourished families in Tanzania.
For whatever reason, our students have fallen in love with the Feed the Hunger organization, and they wanted to do something to help the cause.  Because we are in a message series about generosity, it made total sense to give them a green light on their idea of doing "The Canterville Ghost" last Saturday night (November 14) and selling tickets so that 100% of the proceeds would go to Feed the Hunger.
About 70 people came out Saturday night to their performance.  I was blown away by the quality of their
production.  There was a full set, beautiful lighting, and special effects including a fog machine and sound effects.  After the performance, they counted the proceeds and discovered that they had raised $655 for Feed the Hunger.  They were so excited about what they had done!  And I was so proud to see how students realized they could be generous with their time to do something so great for others.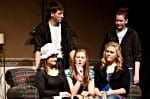 But the story doesn't end there.  Yesterday in Middle School Journey Live, one of our adults was so inspired by the generosity of our students who took the time to make this production, that this person decided to contribute an extra $100.  And by Sunday night, there was another donation of $50 toward the cause.  Generosity was inspiring generosity!  By the end of the day, students had raised $805 for Feed the Hunger.  Here's where it gets amazing:  that amount translates into 2012 meals that will be sent to families in Tanzania!
Way to go guys!  I am so proud of you!  You are catching this generosity thing and setting a great example for others!
Gary Kendall